About Koshimbir
An indian thali consists of mains as well as sides that go with the mains. Of the sides there always use to be one type which my mom made almost for every meal. It primarily had vegetables, mainly raw but sometimes cooked. Cucumber or carrot or radish were the common ones depending on whats fresh at the market. In summers yogurt will also be used to bring the koshimbir together. Koshimbir would have elements of acid from lemon or yogurt, texture from peanuts or coconut, heat from chilies or chili powder. The koshimbir could be seasoned raw or also sometimes with flavor infused hot oil. Made with yogurt they are perfect cooling dish for summers and definitely also act as a counter balance to the hot and spicy mains.
Beetroot koshimbir
This ones made from golden/yellow beets. Beetroot Koshimbir can be made with raw beets as well, in which case you need to grate the beets thin or let them marinate in a bit of acid. The raw koshimbir works great with fatty and meaty mains like grilled chicken or fish. The cooked beetroot koshimbir works great with bread and rice. This time we made it with roasted beets. Typically red beets are used which are more earthy than golden beets which are a bit more subtle and smoother. We like to use golden or yellow beets for this koshimbir as the smoother less earthy flavors allows other subtle seasonings to pair well and shine with it.
To roast the beets wrap in foil with sea salt and drizzle of olive oil and roast in oven for 40 mins at 400 F. Unwrap and the peel. The skin should come off by rubbing it. Whip very good quality yogurt with a spoon and a splash of water or milk to get it going. Season with sea salt and smear on a plate. Use a coarse grater to grate or alternatively chop the beet root on top. Season with sea salt.
Roasting Sesame seeds
Sesame seeds come alive when you lightly toast them in a pan. So do it and let them cool down and then sprinkle on top. Follow that by heating some oil – add one of cumin or mustard seeds and let them flavor the oil – add mild chopped green chilies and curry leaf if you have some and then spoon this infused oil on top. Garnish with cilantro if you have some on hand.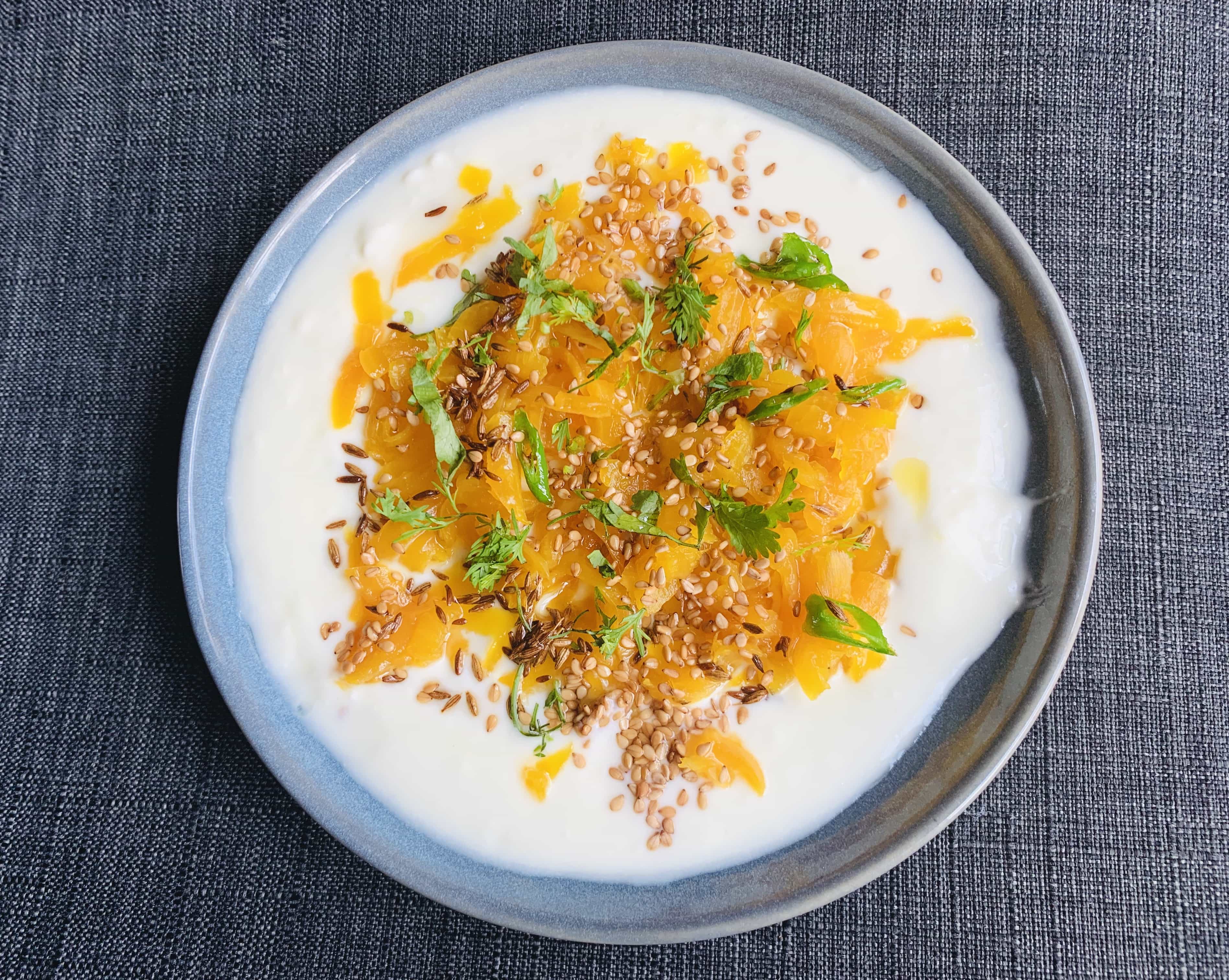 Eat it just like that or i recommend to get a warm bread like a soft pita or a chapati and wipe it off the plate with the bread!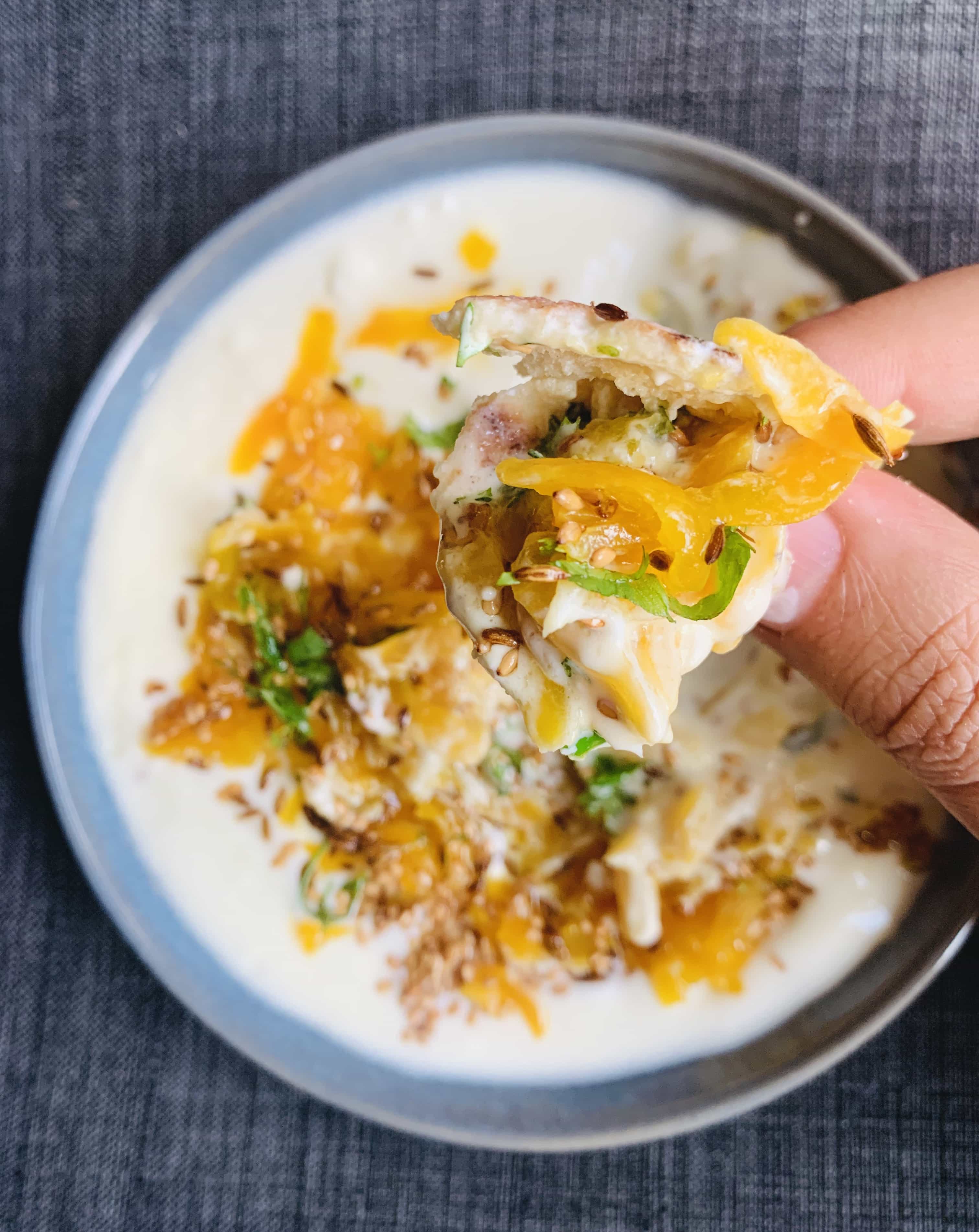 Print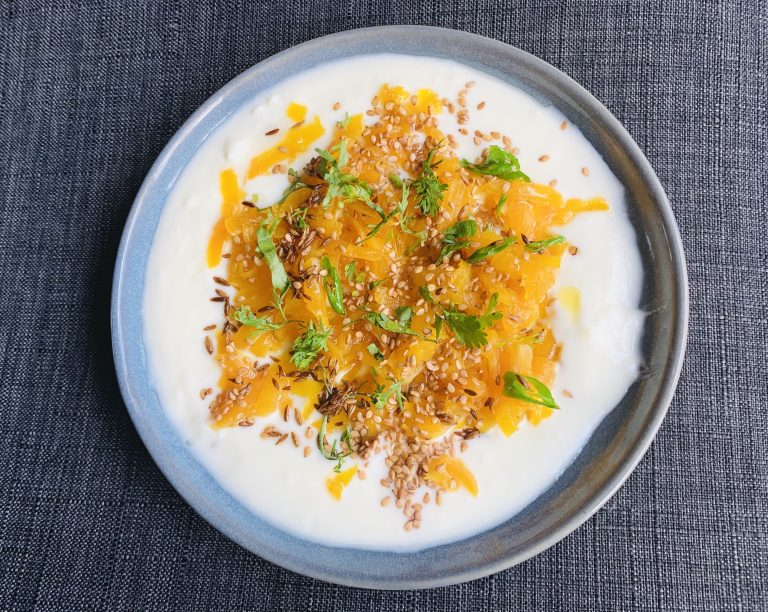 Beetroot Koshimbir
---
Description
A quintessential indian side dish calle dkoshimbir which in this case is made with yogurt and golden/yellow beets seasoned with toated and nutty sesame seeds
---
Scale
Ingredients
1 Medium/Large Golden/yello beetroot
0.5 cup yogurt
upto 2 Tbsp Milk/Water
0.5 tsp sea salt
1 tsp white sesame seeds, toasted dry in a hot pan till they get  alight brown color and cooled
1 to 2 tsp vegetable oil
0.5 tsp cumin
0.5 tsp chopped mild chilies
0.5 tsp chopped cilantro
---
Instructions
Wash the beet and dry it. Put in a Foil and drizzle with oil and sea salt and close the foil and bake in oven at 400 F for 40 mins
Stir yogurt to cream consistency with a spoon and season with the sea salt to taste. If needed add a little bit of the milk/water
Smear the yogurt in a plate
Use a very coarse grater to grate the peeled and roasted beet, then arrange the grated beets over the yogurt and season lightly with sea salt
Heat the oil and when heated add the cumin seeds and the chopped mild green chilies and on medium heat let the cumin be toasted and the oil infused with its flavors and that of the chilies
Drizzle this oil and the cumin and chilies over the beets with a spoon
Top with the toasted sesame seeds
Then finsih by garnishing with some cilantro
Serve mixed together or just spoon it into plate and pair with warm pita bread or as a side for chapatis or rice
---