Let the leftovers guide you
We hoarded cilantro. Well not exactly hoarded but bought two bunches instead of one in our weekly shopping.
So we had a whole bunch left over and we got another bunch in the next weeks grocery so needed to use up one. We made a green chutney by grinding:
1 cup chopped cilantro, 0.5 cup shredded fresh coconut (in our case defrosted from frozen), 2 cloves of garlic, a teaspoon of chopped ginger, half a chopped jalapeno deseeded (no serranos available else would have added a small serrano deseeded) sea salt to taste, 0.25 tsp sugar and fresh squeezed lime juice to taste. It made about a cup of fresh flavorful green chutney.
And we used it happily as a side to a comforting waran bhat meal. (Theres waran bhat, cucumber, batata papad, tomato saar, potato simla mirch, and in the top right position a small ball of the cilantro coconut and garlic green chutney.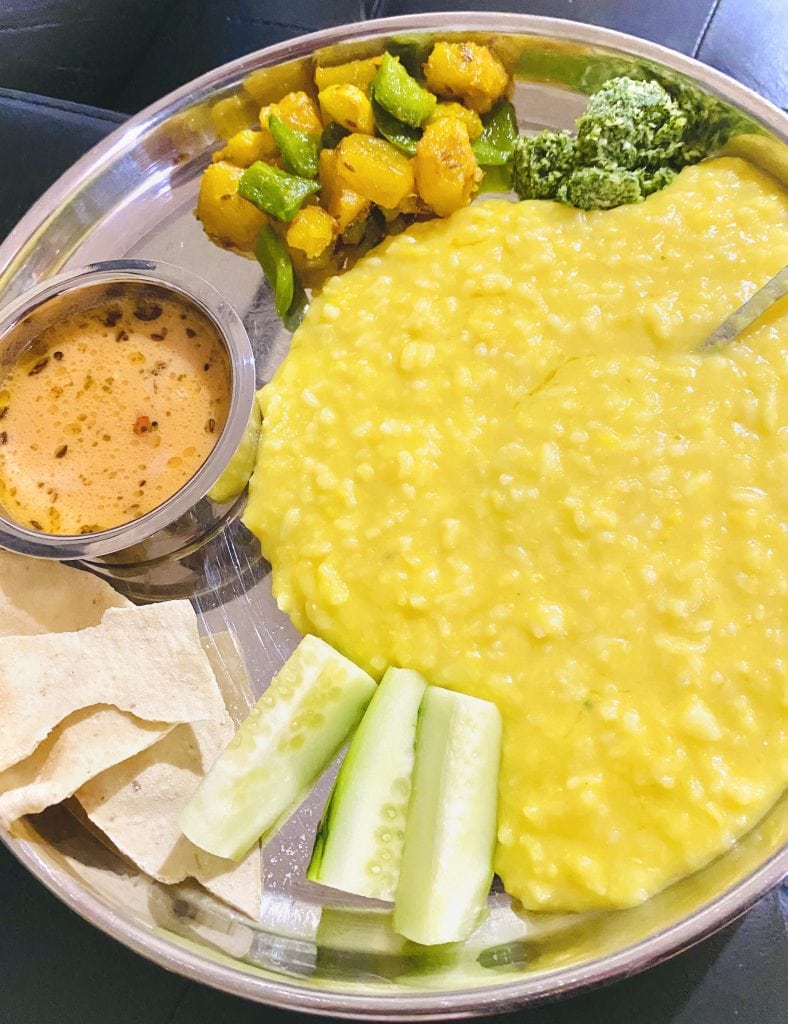 Completely satisfying meal but we created a few left overs. We had the half cup of chutney and 1 potato. Our 1 year old also creates leftovers. We steamed a zucchini for him and he ate only half leaving pieces of half a steamed zucchini.
We also had half a cup of sprouted whole moong. So next day was also a leftover challenge.
The whatever you have green rassa
Hirwa is green and rassa is just a soupy stew. So thats what we made.
We quick steamed the moong bean sprouts by washing them with water to let them get some water for steaming and microwaved them in a bowl covered with a dish for 3 minutes and let that rest another 3 minutes or more while we cooked other things.
Started with some oil and let some cumin toast and sputter in it. Followed that up with some chopped onion to sweat it till soft. Then added the moong, the steamed pieces of zucchini and pieces of the boiled potato and stir fried them on the oil a bit. We then added the chutney – all half cup of it.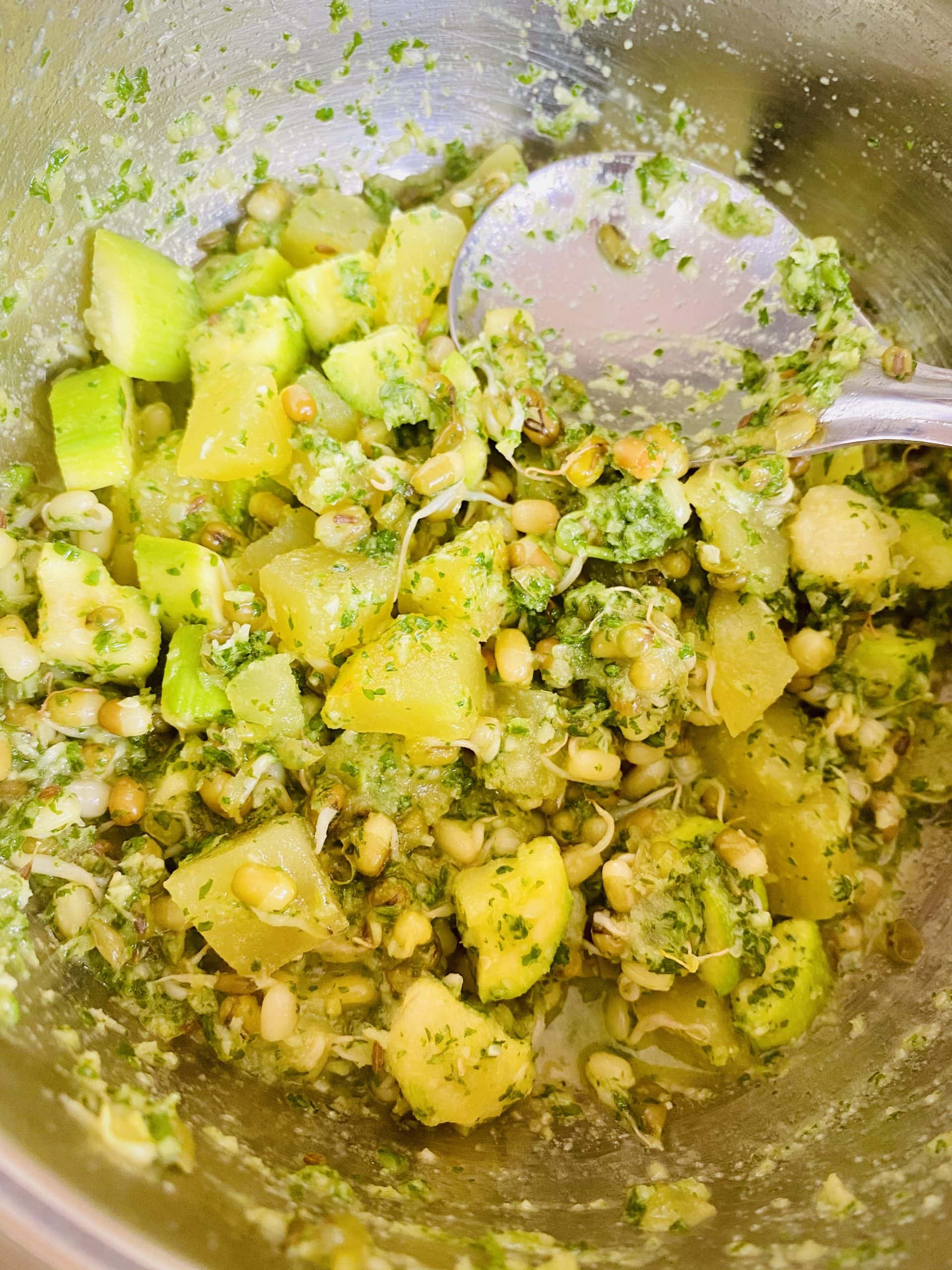 We then added some water and cooked it covered on medium heat till we got some steam coming out.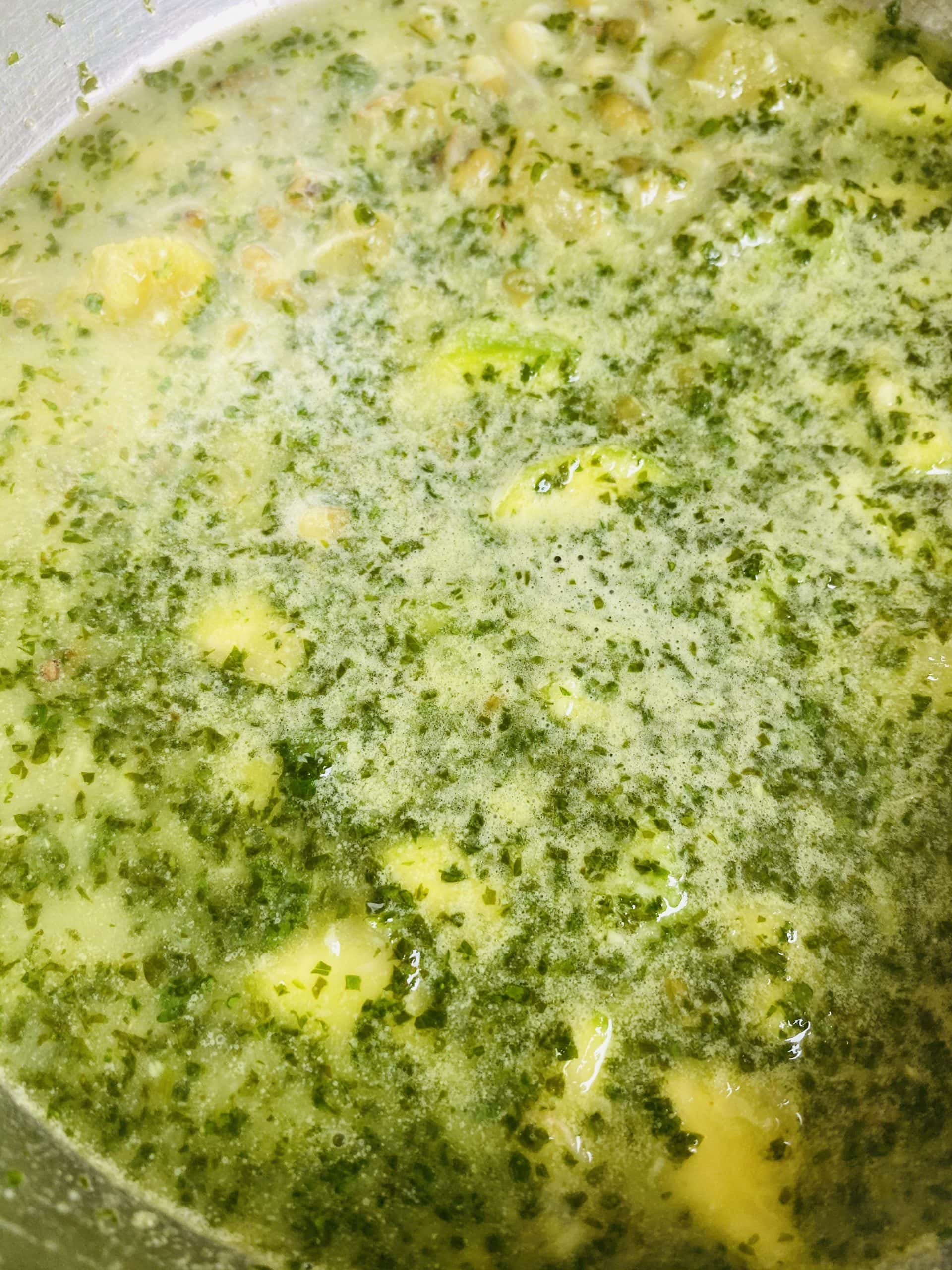 We seasoned with some salt and some lime juice and the hirwa rassa was ready.
We chopped some onion and cilantro for garnish and some farsan and made a quick sea salt and lime juice saad with lettuce and tomatoes. We got a couple of dinner rolls warmed on a griddle over butter and ate them with the hirwa rassa topped with some crunchy sev farsan that we still had. Simple and effective – and this time no leftovers!