Sweet onions
The august farmers market in madison brought in some exquisitely sweet onions. They are maybe as sweet as other onions but very low in pungency. This makes them easy to eat raw, a way we love to eat them with indian thalis. The low pungency and sweetness of the onions gave us an idea to use them a onion soup. We did not need to do the french kind where onions are caramelized to reduce the pungency and transform the sugars. Due to inherent quality of these onions we could do a simple clear broth.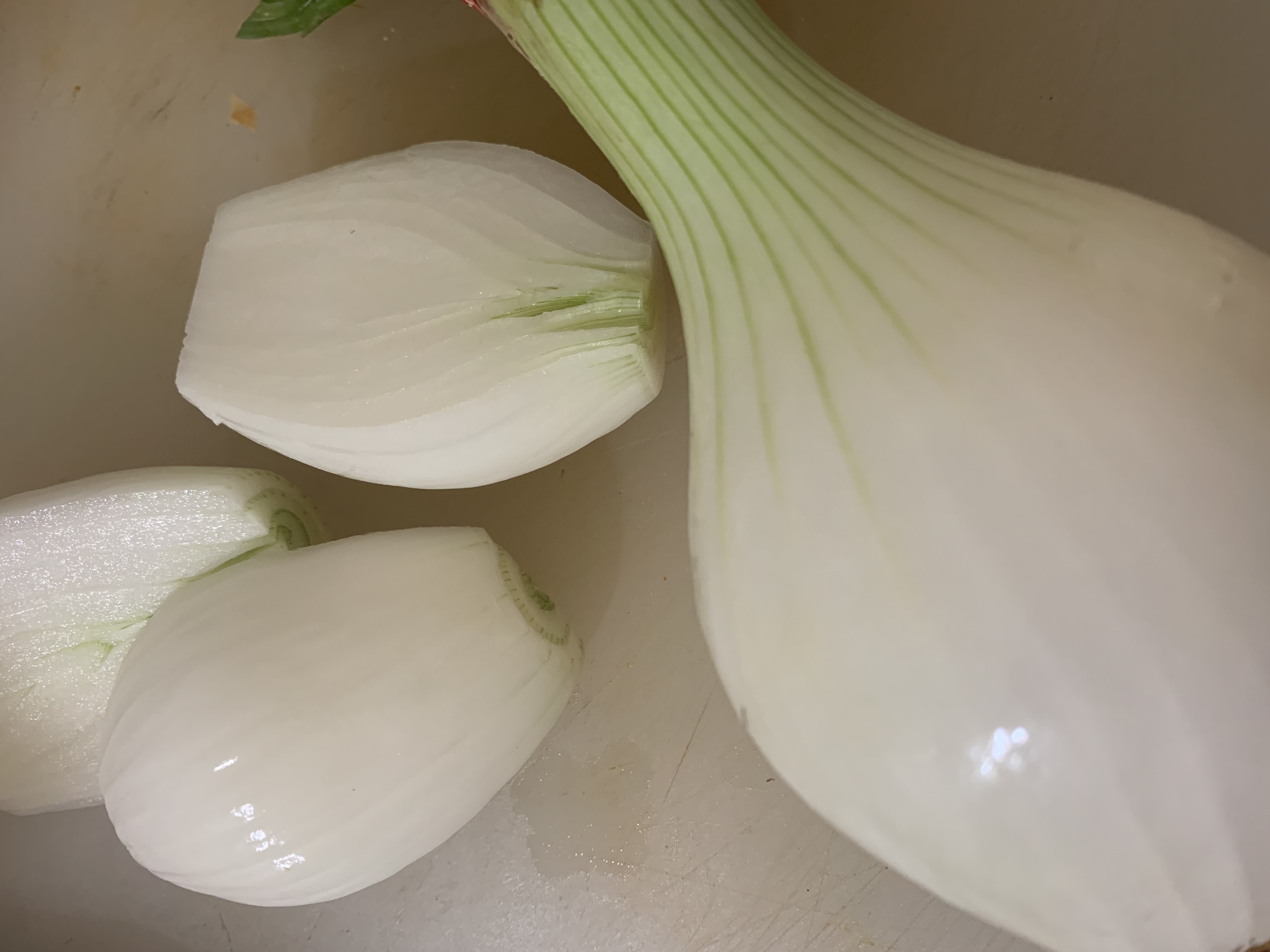 The sweet onion and leeks broth
We also had some leeks on hand which made the perfect pairing. We let the leeks that we chopped fine sweat on some oil and then peeled the onions, washed them and halved them and sliced them into thin rings. We added these to the leeks in the pan and also let them sweat for a few mins.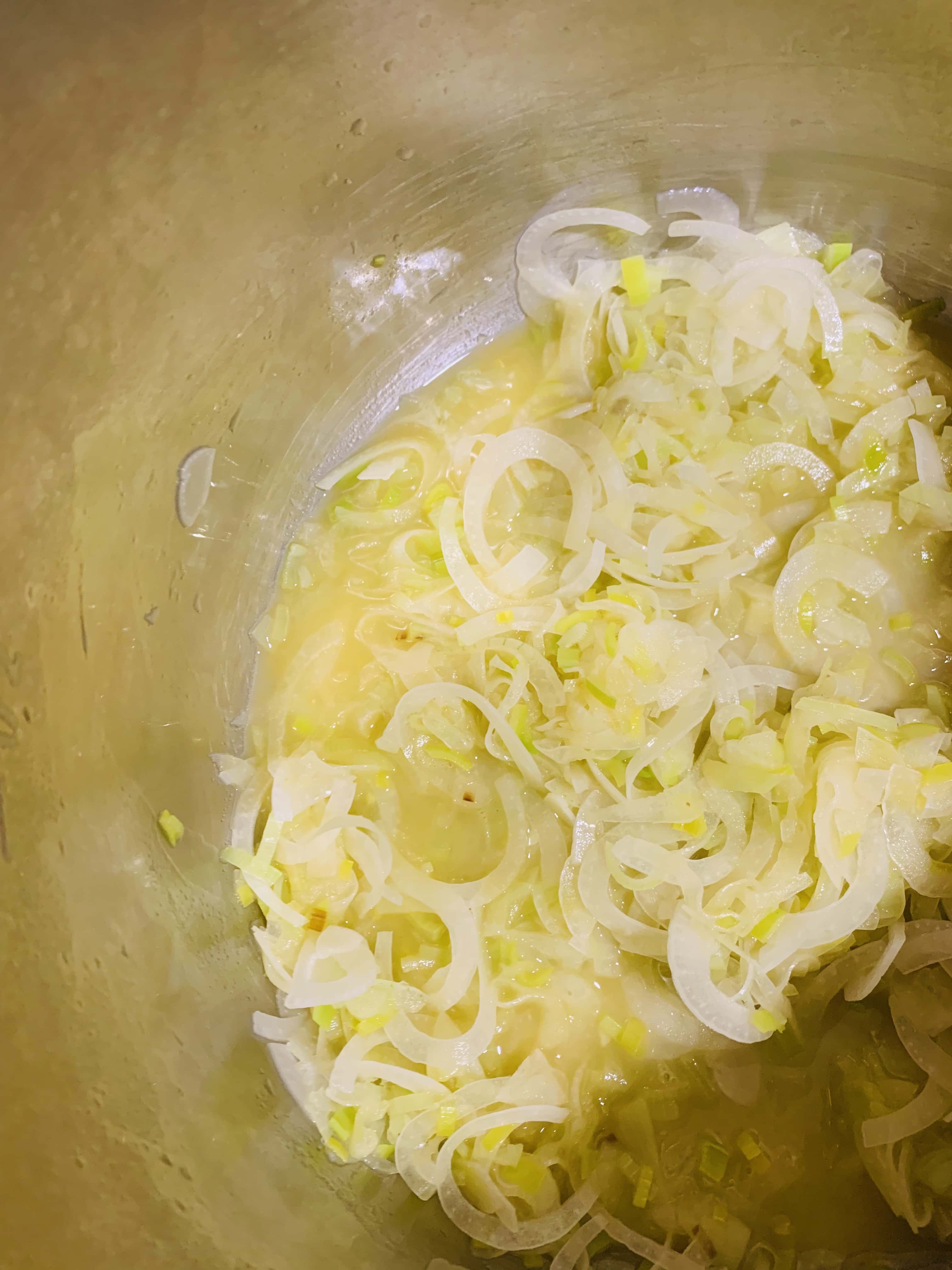 Then we added a bayleaf and chickpeas cooking stock and some water. You could replace with water or chicken or vegetable stock, but the aqua-faba also brings in a lovely clean gelatinous mouth feel while keeping the soup vegetarian. We brought this to simmer and cooked it on low without bringing it to boil till the onions were soft. We then added little bit of white wine and adjusted the salt and let it cook bit more till the alcohol taste was gone leaving behind some sweet acidity of the wine. The soup got a lovely translucent color and we ladled some in the bowl. We kept some sourdough toasted ready meanwhile which we broke into to large pieces.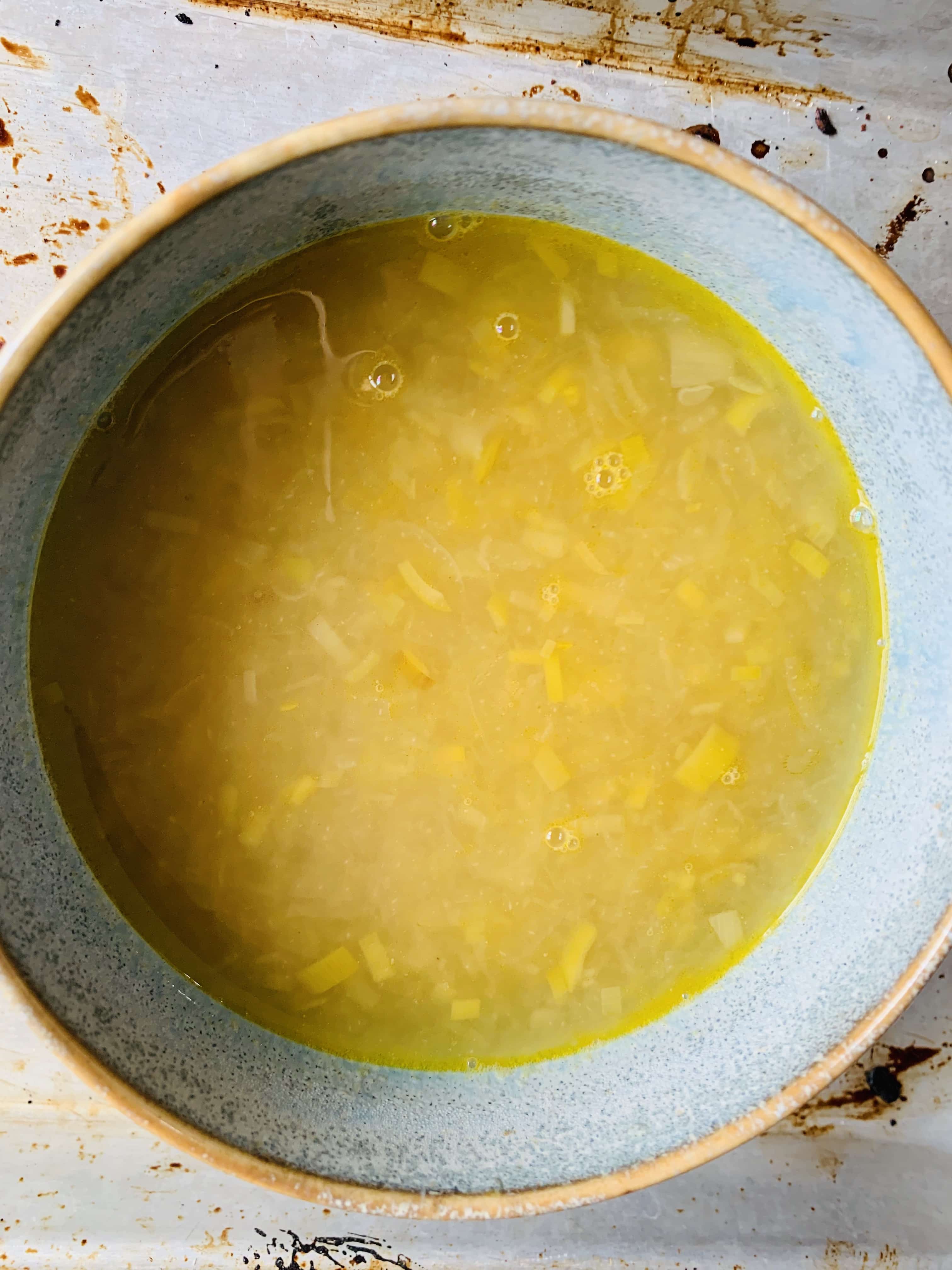 Wisconsin cheddar
Usually gruyere will be used in the french kind of onion soup. Since we are in wisconsin we went with some mild cheddar from a local cheese maker.
Since the soup base was kept very simple with sweet, acidic and pungent notes, the cheese brought the fat. We brought some playful seasoning using some mild green chilies and frehs crushed black pepper.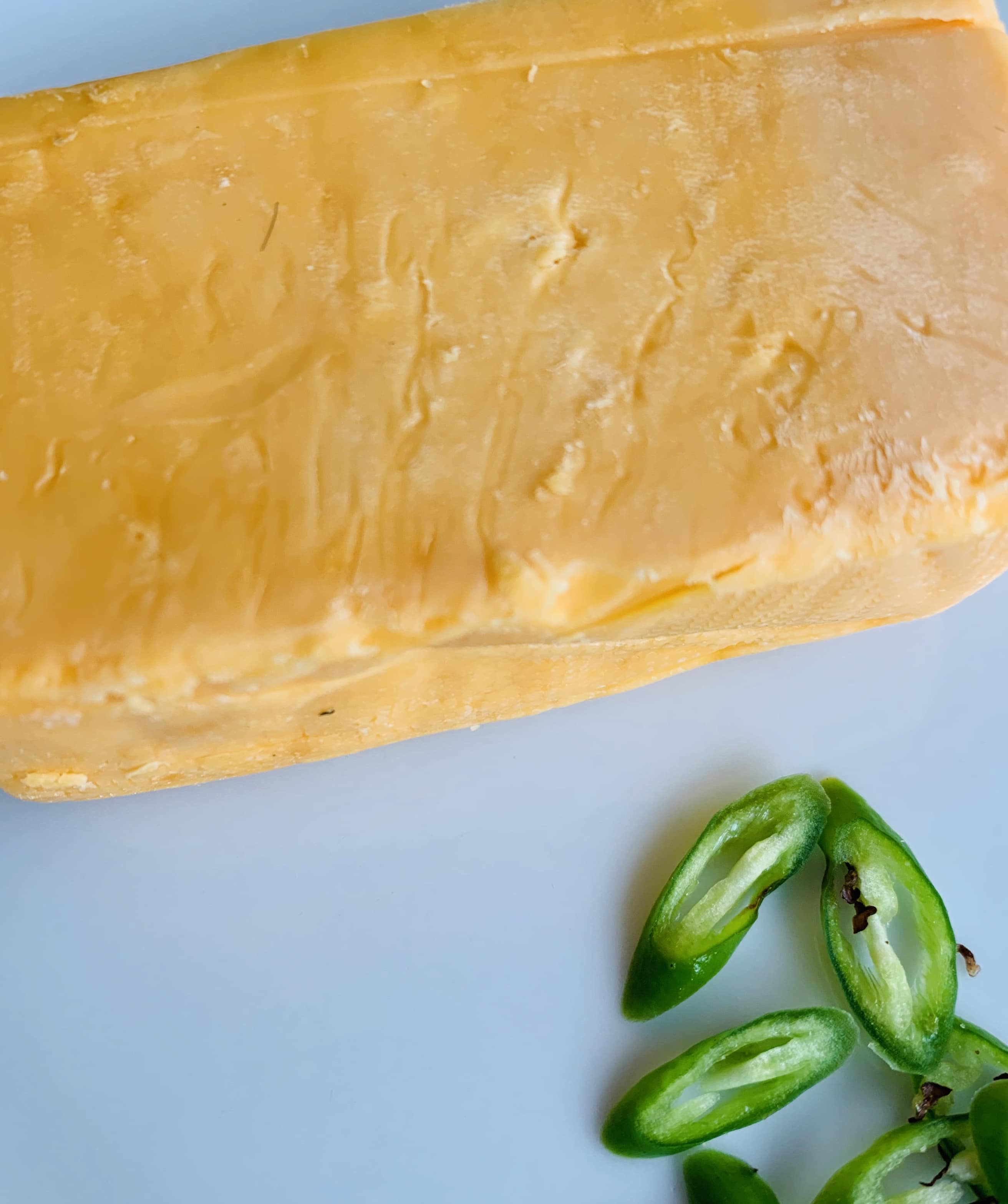 So we put the toasts on the soup and layered with thin slices of the cheddar and topped with green chilies. This went under the broiler on low with door open till the cheese melted. As soon as it came out we garnished with some fresh crushed black pepper and chopped scallions.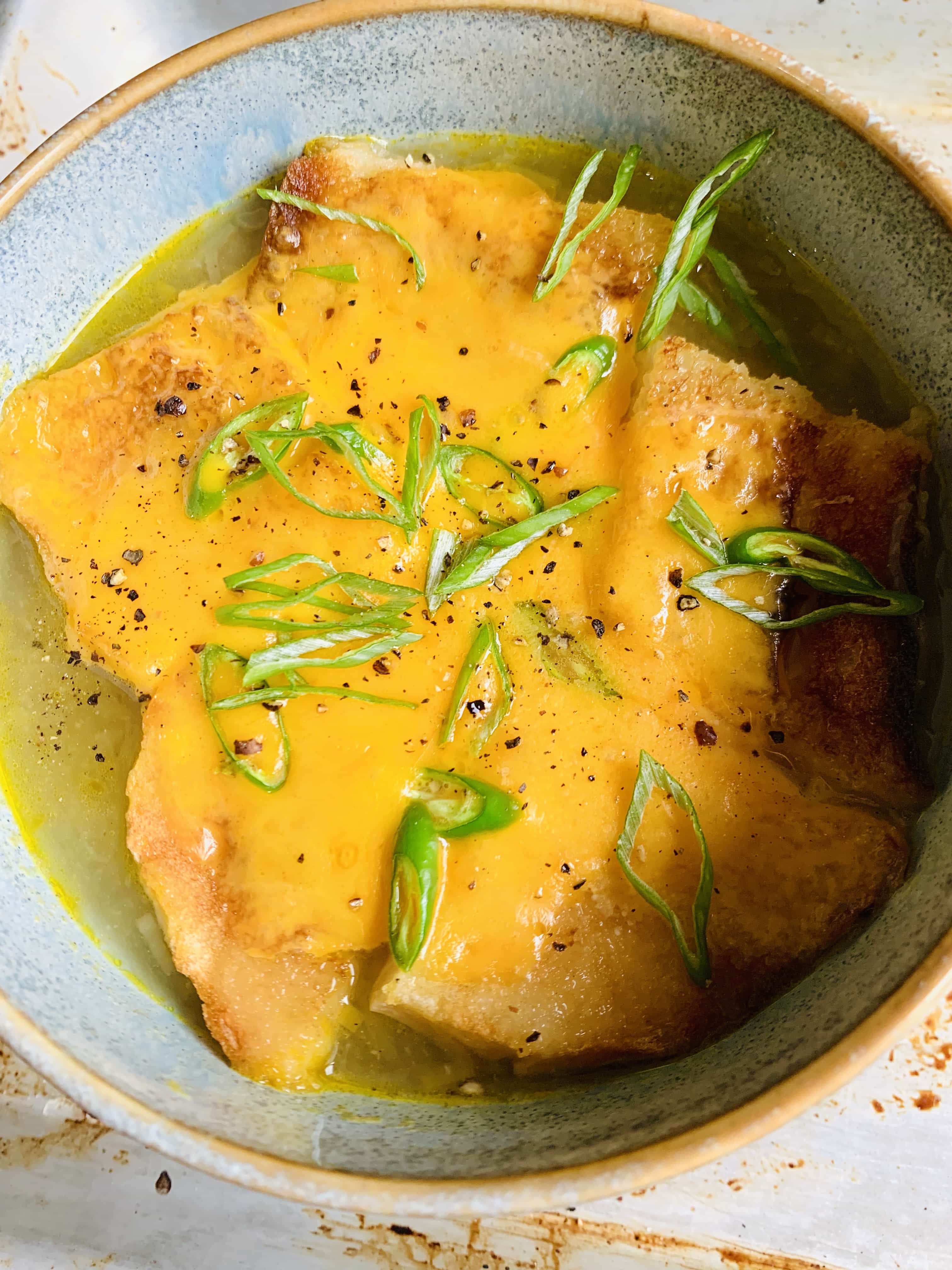 The crushed black pepper really lofts up and brings out the flavors of the cheese onion soup and the freshness from adding at the last minute really helps.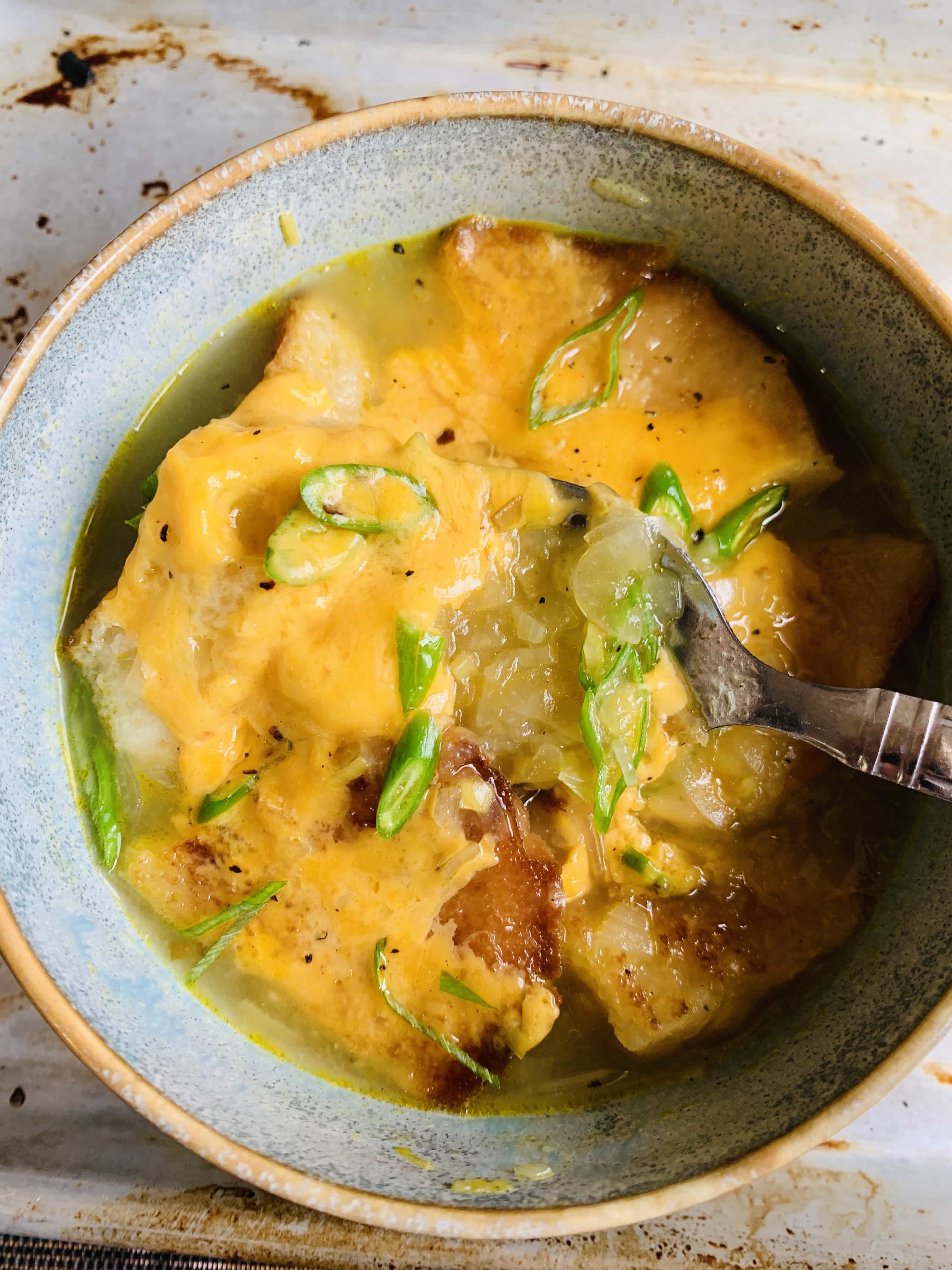 This makes for a nice warm lunch and other than the sourdough croutons and the cheese is a vey light meal. Every time you bit a mild green chili it add subtle warming heat and keeps it interesting and pairs perfectly for us with the wisconsin cheese.
Print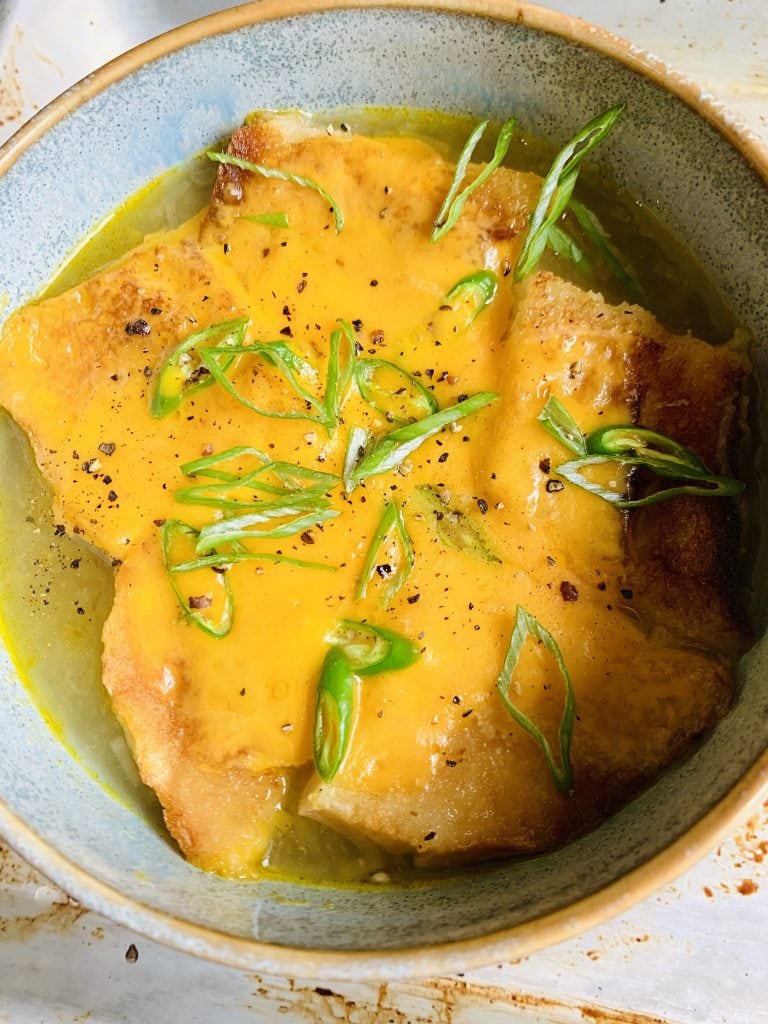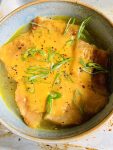 Sweet onions and wisconsin cheese soup
---
Author:

BreakingNaan

Prep Time:

30 mins

Cook Time:

2 Hours

Total Time:

2 hours 30 minutes

Yield:

2

Bowls

1

x
Scale
Ingredients
4 medium sweet onions peeled and thinly sliced
Half cup thinly chopped white part of leeks
1 Tbsp vegetable oil
Salt for seasoning
Two thick slices of sourdough loaf toasted and tore into four pieces each
Mild cheddar shaved into thin slices for garnish
2 tsp chopped mild green chilies
2 tsp chopped scallions
1 tsp crushed black pepper
2 cup aquafaba (replace with chicken or vegetable stock)
1 cup water
1 bay leaf
0.5 cup white wine
---
Instructions
Heat the oil in a stock pot on medium heat
Add leeks and sweat for a few minutes till leeks are soft and translucent
Add onions and sweat for few mins till onions are soft
Add the aquafaba and water and bayleaf and bring to simmer and continue cooking on low to med heat without letting it boil for 30 to 60 mins till onions are soft
Season with salt and Add the wine and cooke for further 20-30 minutes
Set oven on low broil
Discard bay leaf and Ladle soup into bowls
Top with 4 sourdough pices each and top with cheddar slices and green chilies
Broil with door open till cheese melts
Remove bowls carefully onto a plate each and top with crushed black pepper and scallions
Serve hot immediately
---
Category:

Soup

Method:

Simmer

Cuisine:

American
Keywords: Onion Soup Wisconsin Cheddar